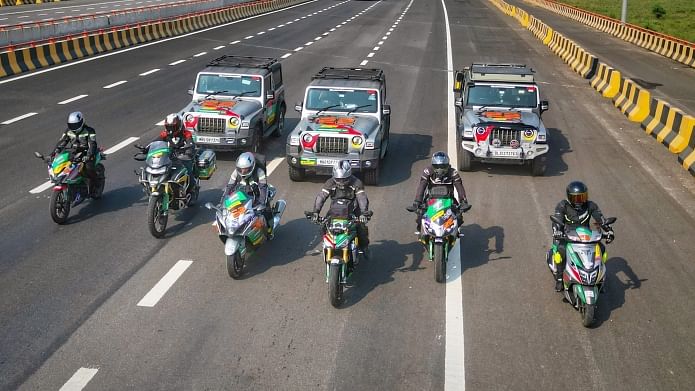 News
All India Motorcycle Ride
All India Motorcycle Ride
Whenever we meet up with our close friends, we talk about going on a trip together. We will never stop talking about the trips. Starting with Kodaikanal and going to Goa, we will look for a location to go. Even director Shankar would not look for such locations. We will do all our planning well. But the trip ends there. Now, I am writing this article on the day I returned to office after a 45-day ride with friends. When xBhp asked me if I could go on an all-India trip, I knew this trip is an opportunity to understand India and meet bikers from all over the country. Yes, it was an All-India-Trip.
xBhp is a motorcycling community started in 2003. Today it is followed by many people all over India. At least once in two years, they coordinate an all-India trip. This #roadtripunited2022 was the plan for 2022. xBhp extended a special invitation to Motor Vikatan to join in this trip. I just packed my bags and left for Delhi.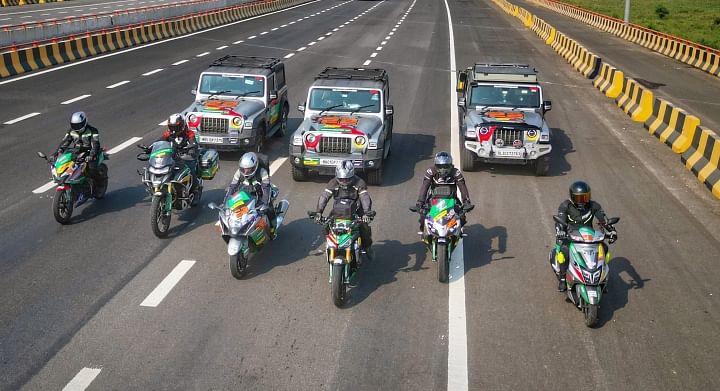 November 6: The trip started in Delhi and ended again in Delhi on December 16. We returned after travelling around India for 45 days. The distance travelled is more than 10,000 km. 12 people travelled alongside me.
Having stood in awe of the Taj Mahal in Agra, I felt the same experience as sunrise at Kanyakumari. We never stayed more than a day in any city. Sunrise happened in one state and sunset in another state. These days introduced me to the different cultures, traditions, languages and people of India.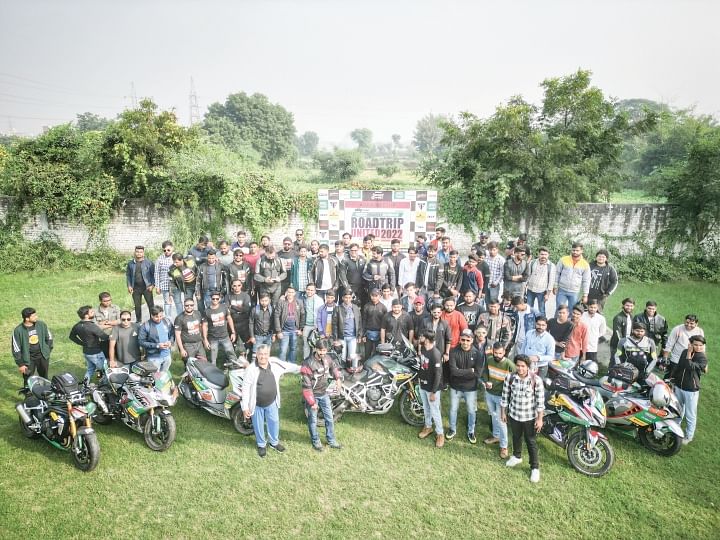 Meetups were organized in each city to meet bikers. Over 300 biking clubs in over 30 cities, meeting thousands of bikers. Whatever cultures, traditions, and languages divided us, motorcycles united us. Their bikes, models of cars, and journeys were full of stories to hear. From Kanyakumari to Ladakh on a TVS Excel moped, the youth who collected vintage vehicles and admired their beauty, and the youth who increased the engine capacity to 250cc on a scooter, we were able to meet and interact with all such incredible people.
We travelled on 6 bikes and 3 cars. Six different bikes ranging from the 125cc scooter TVS Ntorq to the 1,340cc Suzuki Hayabusa and three Mahindra Thars. It is not like only these higher capacity motorcycles or these types of motorcycles can go around India. Our trip is proof that with any motorcycle we can go anywhere.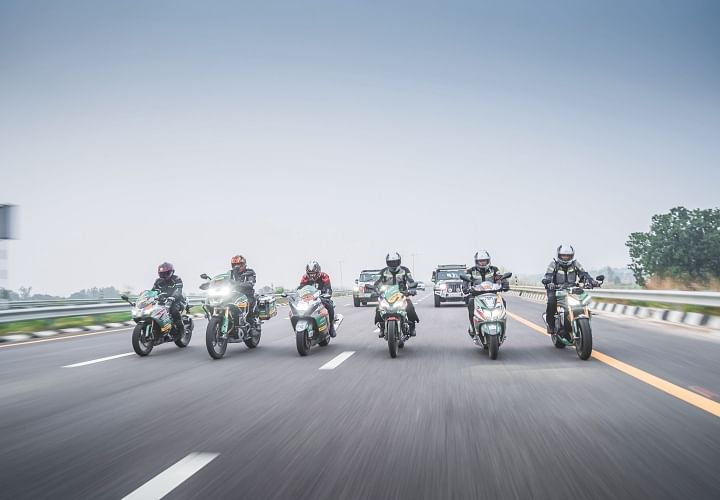 Starting from Delhi, we divided the trip into four parts, one part to Kolkata, one part from Kolkata to Kanyakumari, another part from Kanyakumari to Mumbai, and another part to Delhi. This is because servicing the bikes and cars we drive is important. Motorcycle condition, oil, and chain should be checked periodically. Only when there is no problem with them will there be no disruption in the journey.
Every city has a colour. There is a taste. Like idli sambar for us, Delhi has aloo paratha and sabji. Even for lunch you get roti only. You have to eat what you get.
If you ask "Is it necessary to do a big trip to just meet bikers considering the price of petrol?" Well, this trip has a purpose. Most road accidents happen due to drinking and driving. We carried the slogan ``Say No to Drugs, Say Yes to Motorcycle'' to create awareness about this. We advised bikers in their respective cities about the consequences of taking drugs and to show their passion for motorcycles instead.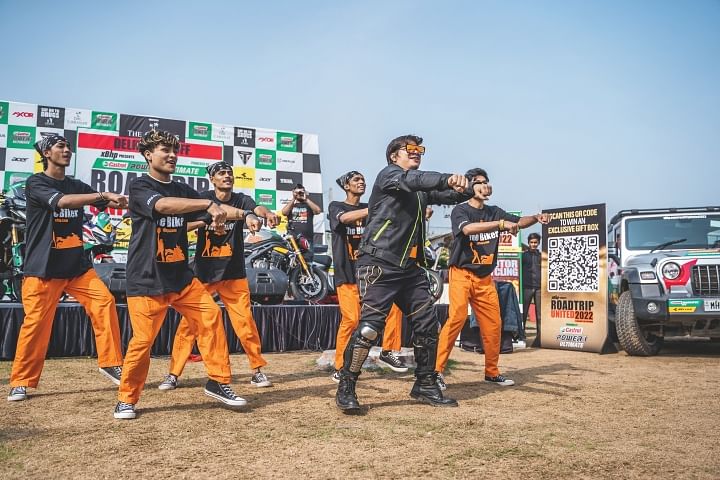 A young man we met in Krishnagiri shared with us that he had travelled all the way from Leh to Ladakh on a TVS 50. What is most important for travelling? Good vehicle? We understood that willingness and the right mindset are as important to travel, and not just to look for a good vehicle first.
I rode all six different motorcycles all over India alternatively. Safety gear is very important when travelling. Wearing the right gear like a helmet, gloves, jacket, and shoes is important.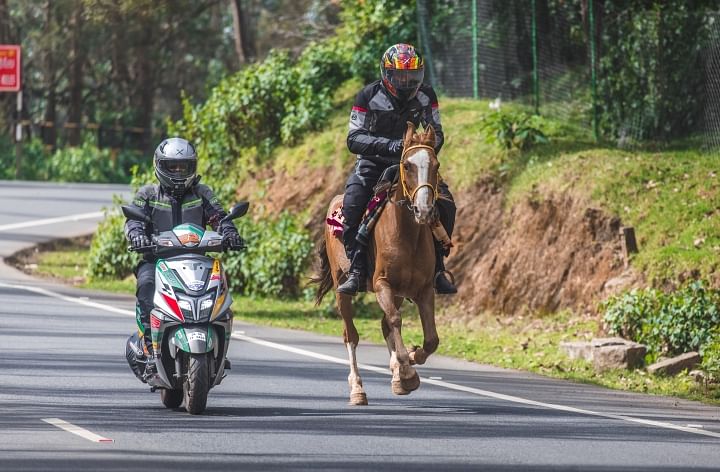 From Taj Mahal to Kolkata Howrah Bridge, Hyderabad Charminar, Visakhapatnam Beach, Madurai Meenakshi Amman Temple, Kanyakumari Thiruvalluvar Statue, Ooty Mountain Range, Karnataka Hills, Goa's culture, Mumbai's shopping streets, Rajasthan's colourful cities, 45 days is not enough time to see all India in its entirety. It was an unforgettable journey in life. Travel is a never-ending journey we all would like to do, so see you on another trip...