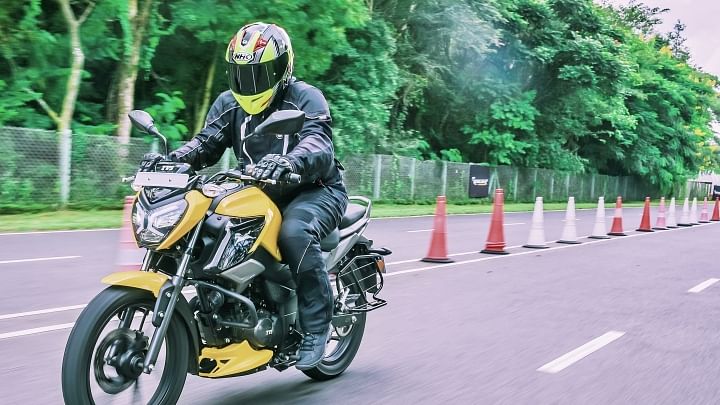 News
Motorcycle Riding Jacket
Motorcycle Riding Jacket
The second most important motorcycle gear after purchasing a helmet is a riding jacket. It not just covers and protects half your body, but that half of the body also houses your organs and spine. Injuries to the upper body can be life threatening, even at relatively slow speeds. It is therefore recommended, that after you have bought yourself a quality crash helmet, then the next item on your list should be a proper motorcycle jacket.
Motorcycle jackets have long since moved on from a few decades ago, when the best jackets were leather and everything else was considered substandard. Nowadays, biker jackets come in as many varieties as there are motorcycle types out there in the market. Choosing the perfect riding jacket depends on a host of factors. Keep these things in mind when buying your first biking jacket, and you will be one happy rider!
Materials
Look for a jacket made from a durable, high-quality material like leather or high-quality textile. Leather is still considered the best for abrasion protection, but textile these days provides incredible protection. Textile jackets also come with more pockets, accessories, zippers and liners, making it easier to live with. What kind of riding you do, the place you will spend most time in, are conditions which will alter your material choice.
Fit
Make sure the jacket fits properly and is comfortable to wear. A jacket that is too tight or loose can be uncomfortable and may not provide adequate protection. Your jacket should have a 'snug' fit. Any movement in the fitting means that the armour will not be in place when you crash. So don't oversize or undersize, buy the size which is appropriate for you. Different brands have varying fits, so check it out before choosing a jacket. Some are roomy, while others have a slimmer fit. It therefore makes more sense to buy from a physical store rather than buying online.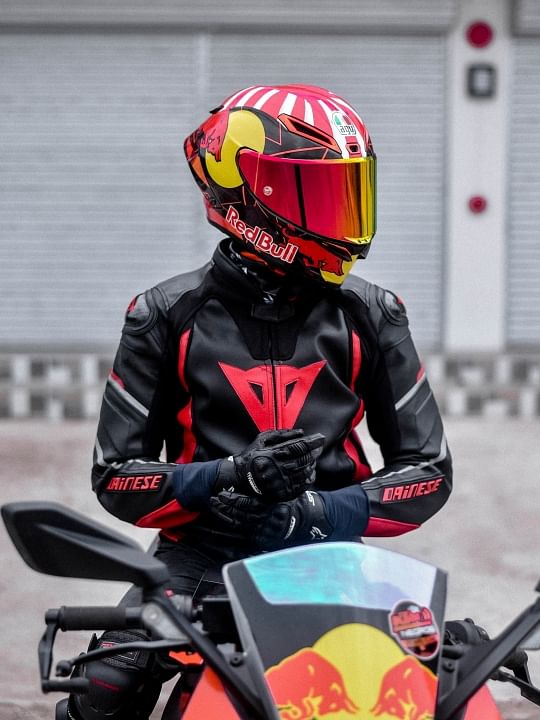 Safety Features
Look for a jacket that has built-in safety features like reflective panels, padding, and armour to protect your body in the event of a crash. Different styles of jackets have differing safety features depending on where the rider is expected to spend most of their time, in an urban commute, highway, track or trail.
Ventilation
If you plan to ride in warm weather, look for a jacket with ventilation to keep you cool and comfortable. For us motorcyclists in India, most of our riding is done in summer conditions, therefore ventilation plays a crucial role in choosing a jacket. Which is why mesh jackets are so popular in the country. Well ventilated jackets can be zipped up, an inner liner inserted and a windcheater added on the outside to make it suitable for cold north Indian winters as well. Give preference to ventilation when buying a jacket in India, no matter where you live.
Style
Finally, choose a jacket that matches your personal style and preferences. There are many different styles of motorcycle jackets available, take your time and find one that you like. Most riders for obvious reason, buy jackets which have a similar style to their choice of motorcycle. If you own an adventure motorcycle, you would first want to check out the range of motorcycling gear that will be suitable for ADV bikes and rides. Your main jacket styles are, adventure jackets, cruiser jackets, café racer jackets, sports jackets and race/ track jackets.
Below are a variety of common jacket styles available in the Indian market:
Mesh Jackets
Mesh jackets have huge panels of mesh on the front and rear to increase airflow and help keep you cool in hot riding conditions. These are the defacto choice of jackets for most riders in India, who end up riding in warm conditions for the majority of the year. Mesh jackets generally employ better abrasion resistant materials on the shoulders, elbows and other areas of high impact. On the other hand, mesh jackets are a bit of a compromise in terms of safety, because the mesh areas of the jacket will not be as sturdy as a full textile or leather jacket. A mesh jacket is of course much better than no jacket, which riders tend to do in the summer. Highly recommended for people looking to spend most time commuting.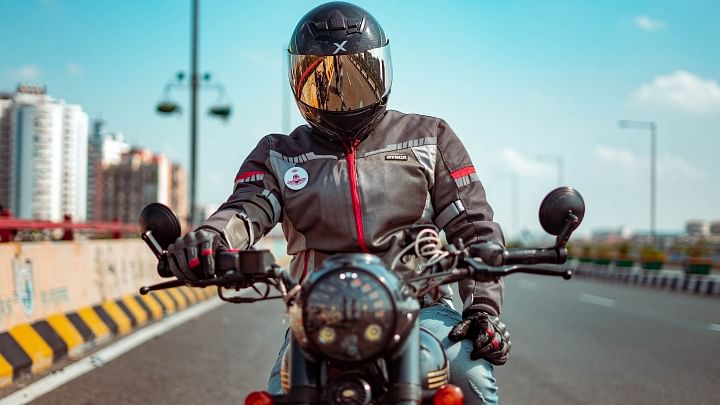 Full Textile Jackets
Full textile jackets, as the name suggests, uses textile materials all across the surface. These jackets are recommended for most riders and riding styles. You will find these to be waterproof and windproof for the most part, and often come shipped with thermal liners. You get much more protection with a full textile jacket in comparison to a mesh jacket. Buy these only with excellent ventilation for Indian summers, else it will become quite a steamy affair inside, when riding at slow city speeds. Adventure riders, tourers, and other recreational enthusiasts are recommended to buy full textile jackets.
Leather Jackets
Leather for many riders is still considered the ultimate material for biking jackets. This is especially true if you plan to enjoy your motorcycle on a race track, where only leather is allowed. But keep in mind, that on track, mostly single piece leather suits are allowed, making your jacket useless for that purpose. Leather provides the best abrasion resistance compared to other materials, and can also withstand a slide or two. You also get perforated leather to help you stay cool in the summer. Leather repels water to some extent, but will eventually get destroyed if caught in frequent downpours. Sports bike riders favour leather jackets, as much for the protection, as for the aesthetics. On the other end of the spectrum, cruiser owners also love leather jackets, but in the old school styling.
Which Jacket to Buy?
Your eventual decision of buying one motorcycling jacket or another depends largely on your riding style. Which part of the country you reside in also is a major contributing factor to your decision. Armour and materials used in the jacket construction is equally important in your list of priorities. Finally, budget plays a key role in deciding on a jacket. At times it could be better to save up and buy a superior jacket. Or on other occasions, it makes sense to buy whatever is in your budget, rather than delaying the purpose.
Keep one thing firmly in mind when buying a riding jacket, any motorcycle jacket is better than no riding jacket in case of a crash!