The first thing we buy after getting ourselves a nice motorcycle is a helmet. That is the best decision a rider can make for themselves. And as time progresses, we gradually build up our list of riding gear. Jackets, gloves, pants and boots. More often than not, we buy riding boots last. Waiting to get everything else before turning our attention downwards!
Boots are an incredibly important, but often overlooked, piece of kit for a motorcyclist. One can often see riders with premium motorcycles, wearing decent riding gear and sneakers to save their feet.
Before we delve into choosing a pair of boots, let us first see why we need boots in the first place!
How Do Boots Help?
We need to rewind a bit to the time humans were hunter-gathers roaming the plains of the earth on foot.
Barefoot.
Somewhere along the line, somebody thought it would be a good idea to cover the foot from the elements and along came shoes. Humans now had some sort of protection from cuts, bruises, heat and cold. And this continued for millennia. We didn't need to change the status quo, as the requirement of our lifestyle didn't change.
On foot, the human anatomy was designed to survive at speeds of 20 kmph or so. Fast forward to the industrial revolution and we suddenly invented cars and bikes which went significantly faster. Nowadays, superbikes are electronically restricted to 300 kmph. All premium Indian bikes easily cross the triple-digit barrier.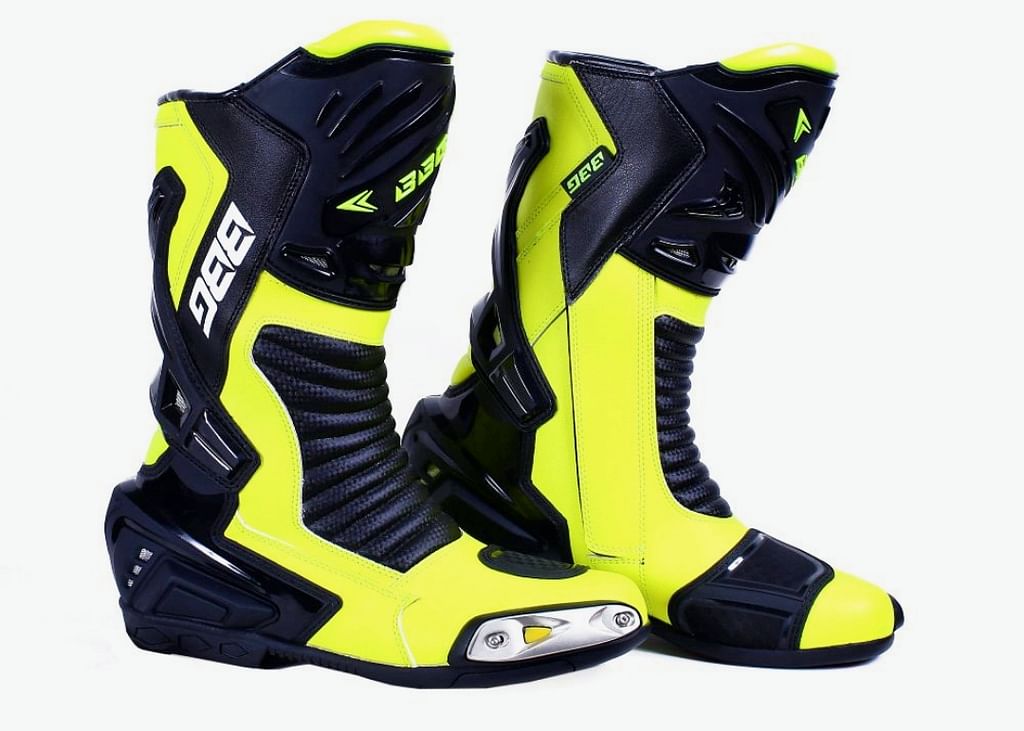 Simply speaking, our bodies aren't built to cope with those speeds. Or more accurately, the sudden deceleration from those speeds in the event of a crash.
Motorcycling boots play a dual role. Unlike helmets which are built for safety and comfort only. Boots factor in these two qualities and at the same time need to be easy to use. As motorcyclists, we are constantly using our feet to change gears and operate the rear brake lever. We need dexterity without sacrificing protection.
Investing in a good pair of boots is highly recommended if you plan to ride for many years to come.
What motorcycle
boot suits you?
Boots like motorcycles vary drastically. Your choice of motorcycle varies, depending on whether you want to spend more time on the track, in the dirt, commuting or touring. So does your choice of motorcycle boots.
Commuters would look for boots which are comfortable and blend in with regular office and leisure clothes. Speeds are expected to be relatively slower, and as such safety is not your only priority. Ease of use and comfort are up there on your list.
For tourers who are looking to spend long hours in the saddle, you need comfort, ventilation, protection and ease of walking. Being waterproof is an added bonus for tourers as they traverse a variety of terrains and weather conditions.
Off-road riders need extreme protection as hyper-extension of the foot is a frequent reality.
ஒட்டுமொத்த விகடனுக்கும் ஒரே ஷார்ட்கட்!
தற்பொழுது ரூ.800 சேமியுங்கள்! ரூ.1749 மதிப்புள்ள 1 வருட டிஜிட்டல் சந்தா

₹

949 மட்டுமே! மிஸ் பண்ணிடாதீங்க!
Get Offer
Dirt riding boots are built to face a tsunami, in a manner of speaking of course! On the other hand, these over-engineered boots are a pain to walk in and look outlandish.
Track boots are sleek, lightweight, offer a lot of protection and are stiff. Similar to dirt riding boots, it is a pain to walk in boots built for track use.
You need to choose a boot which is closest to your riding style.
Anatomy of a Motorcycling Boot
A motorcycling boot is made up of multiple parts, and before you go buy a pair, it is prudent to check out what the manufacturer is offering for your needs.
Sole
The sole of a boot is possibly the most important ingredient. Depending on your riding usage, it needs to be more flexible for walking or less flexible for additional safety. Soles can add considerable weight to the boot, so lightweight soles made of PU are more desirable. Anti-skid soles are a good addition to have. Walking on wet surfaces becomes easier and there is less chance of your feet slipping off the foot pegs of your motorcycle.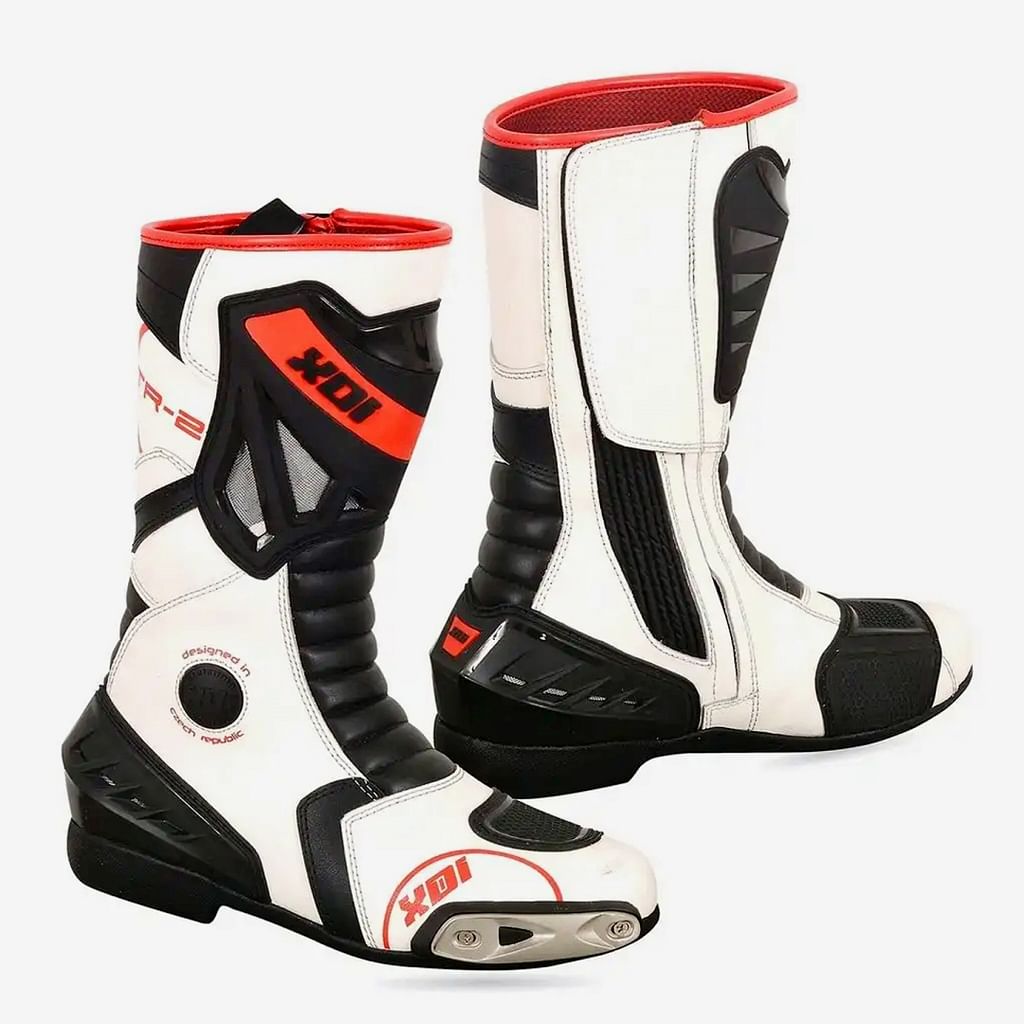 Upper
The upper of the boot is literally the upper half of the boot. The material is affixed to the sole. Most good-quality boots will use leather for the upper. Leather breathes, has natural flexibility, breaks into the rider's foot with use, and works in both hot and cold conditions. Leather is also abrasion-resistant, which makes it an ideal material for boot uppers.
Protection
Check the manufacturer-provided specifications of where all the boots have protective inserts. Generally, the ankle and toe areas get additional protection. This is to avoid damage to the foot because of the ankle-twisting at awkward angles and to protect the digits on your foot.
Fitting
A motorcycling boot like any other shoe is useful only if it fits you well. A boot which works perfectly for your friend, might not be great for you. You can only know by trying it on. Different brands vary in their sizing as well as shape. Some brands work better for people with broad feet and other brands work better for people with narrow feet. You need to try it before you buy.
Fastening Mechanism
Boots can be fastened by laces, zippers, Velcro or twist knobs. Laced-up boots are the least desirable because they can open at any time and get entangled in moving parts of your motorcycle. The other mechanisms of fastening vary depending on the budget range you are looking at.
Feel
Last and surely not the least is 'feel'. Some boots might seem perfect when you read the specifications, but don't work out in real life. Other boots feel perfect the moment you slip your foot in. As with sizing, for this as well, it is better that you try before you buy.
Buy Now!
If you don't own a pair of motorcycling boots, then start saving up and get yourself a pair. Your feet will thank you. Keep these points in mind about usage and boot construction, and you should be able to get a pair of motorcycling boots which work out to be excellent value for money.