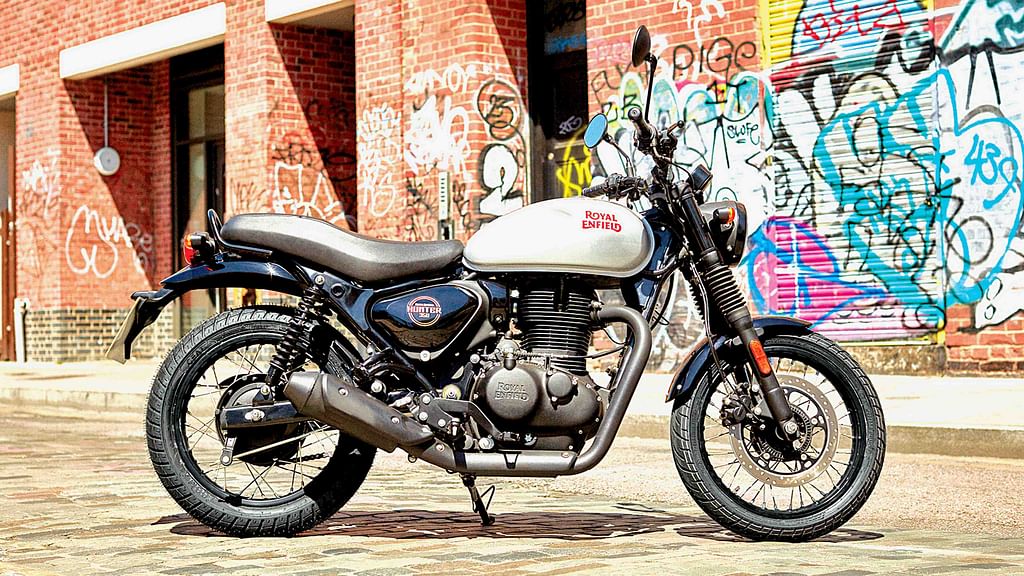 News
Royal Enfield Hunter 350
Hunter, a typical modern retro bike. Being a Royal Enfield, it has also got Bullet status. Many refer to this as a 'Hunter got a Bullet'.
Royal Enfield's Hunter is the most spy-shot bike among our Motor Vikatan readers. Since then, there has been a lot of anticipation for this bike! The reason is just because it is a Royal Enfield! That's it.
Everyone is familiar with RE's famous J Platform in India. Royal Enfield introduced it two years ago. On that platform, the Classic 350 Bullet and Meteor 350 were modernised. It was well received by the audience. Let's see how the Hunter is easy to ride and stylish to look at!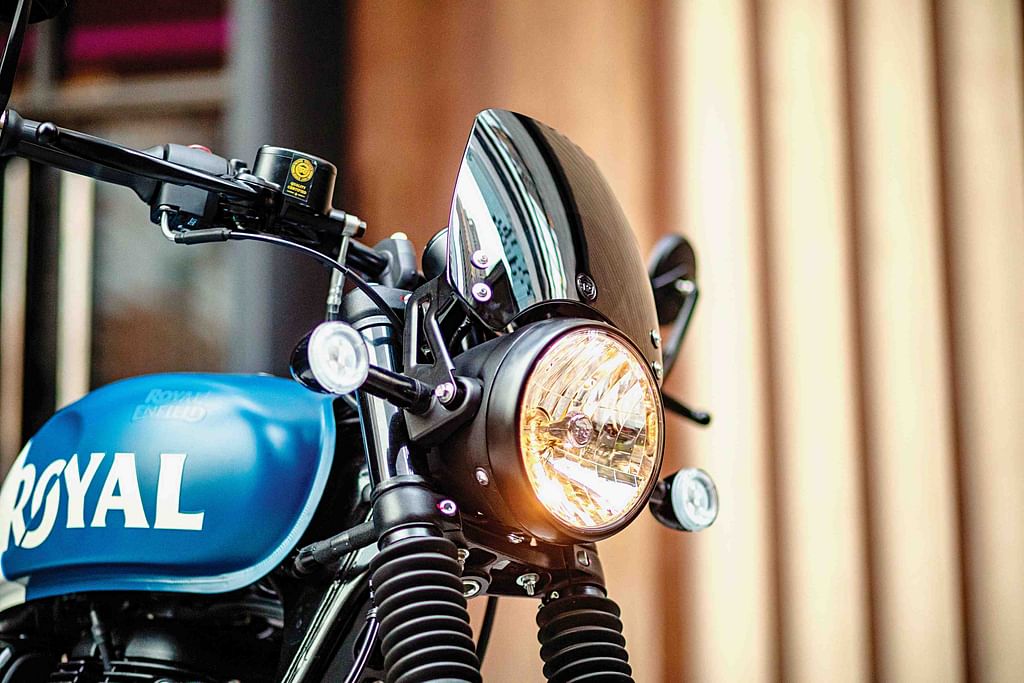 Design: Retro and Metro?
Hunter, a typical modern retro bike. Being a Royal Enfield, it has also got Bullet status. Many refer to this as a 'Hunter got a Bullet'. Its circular headlight is the source of this retro! A special feature of this petrol tank is that it has a teardrop design. With small panels on the sides.
Looking at its overall silhouette, one would think of it is a scrambler. It has some ergonomic designs that are not found in any other RE Bullet bikes. The recesses for the knees are different. Also, those side panels are new. Like the Meteor, Royal Enfield has sprinkled a lot of accessories on it. Its flat seat design makes it comfortable to sit and ride. The pillion rider is also seated comfortably.
Judging by its dimensions, it is smaller than most Bullets. However, it is a 181 kg bike. Bullet riders can easily handle this.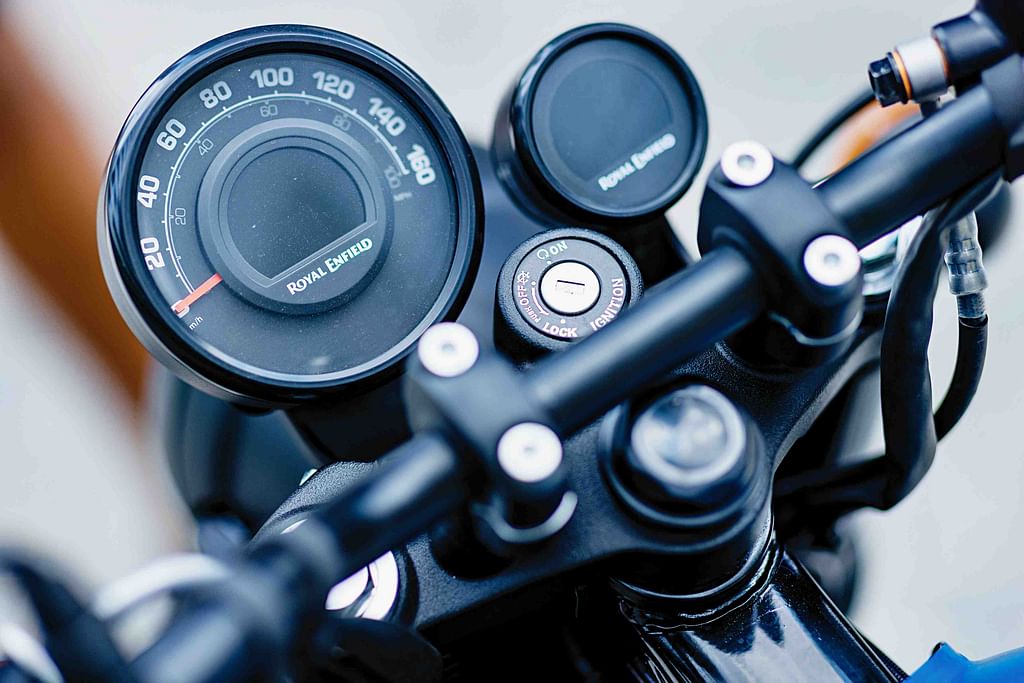 Undermining this giant are its tiny 17-inch wheels. It's too small for this bike! But Hunter plays in style. Try a colour scheme called Dapper Ash. It will be nice. Some of the bold lettering on the top-end Metro model will be eye-catching. The lower-end Retro model has a neat and clean paint scheme. Its dual glass dials also look good in retro style.
Full of Features?
This is not to say that it is a bike without features; they did not skimp on the features. It has an elongated designed USB charging port. Trip navigation on this display is optional.
Hazard lights have been given in the top-end Metro variant. Otherwise, no LED. Both models are powered by halogen bulbs. But, as far as we know, halogen bulbs are brighter than a LED lighting setup! So, don't worry! The alloy wheels are quite stylish on the Metro. It has dual channel ABS. Tubeless tyres are only available on Metro.
Standard spoke wheels are used on the low-end Hunter; Slim tyres; rear wheel gets drum brakes; Single channel ABS, basic instrument console, tubular rear grab handle, halogen brake lamp, old style rectangular indicators – all these are basic features. But retro is practical and stretchy.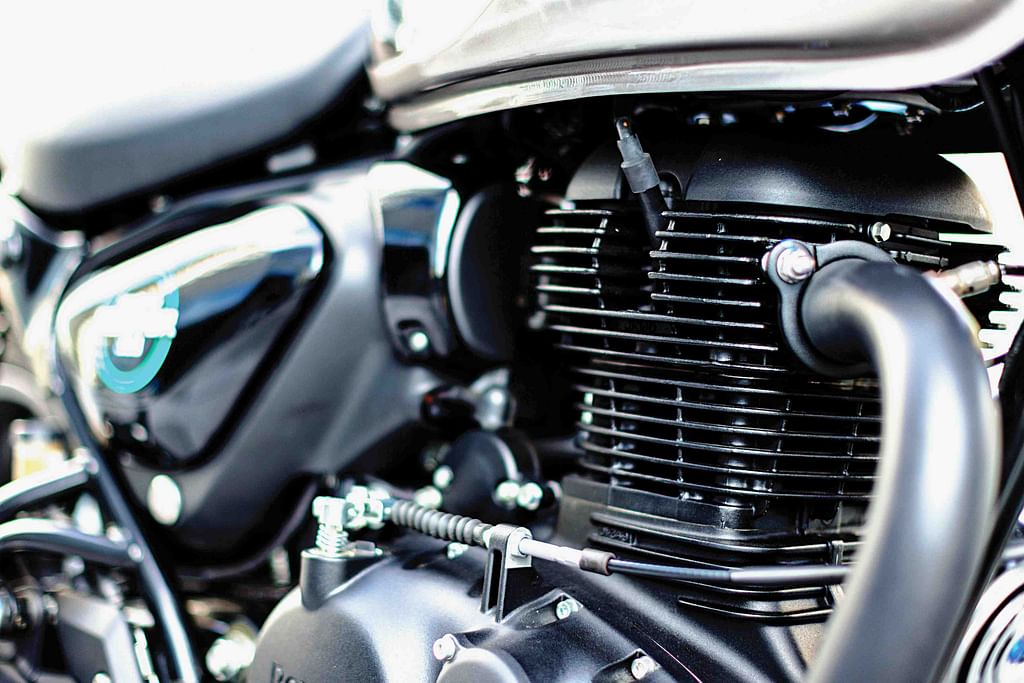 Engine Performance
This Hunter can't be called sporty by itself. It has the same engine setup as the Meteor 350 and Classic. The technical specs like 20.2bhp power and 27 Nm torque remain meteoric and classy. However, Royal Enfield says that the Hunter has been slightly re-mapped to suit its size and shape. Royal Enfield did this even when the Classic and Meteor was introduced. It's also a workout. Both had very low vibrations compared to the old Bullets! And so it is with this Hunter; not much vibration is felt. Its engine response is high. The peppy sound from its short exhaust is good, with a sporty bit. But a must-have for Bullet lovers! I like the beat of it.
The Hunter offers the same performance experience as other RE bikes. Royal Enfield says its mileage is 36 kmpl like other bikes.
When riding it on the highways, the Hunter is quite fun till 80 – 85 kmph. Up to 100 can go comfortably without any irritation. The engine remains smooth, though it stutters a little at 120 kmph. Well, basically no vibrations. Hunter couldn't be throttled beyond 120 kmph.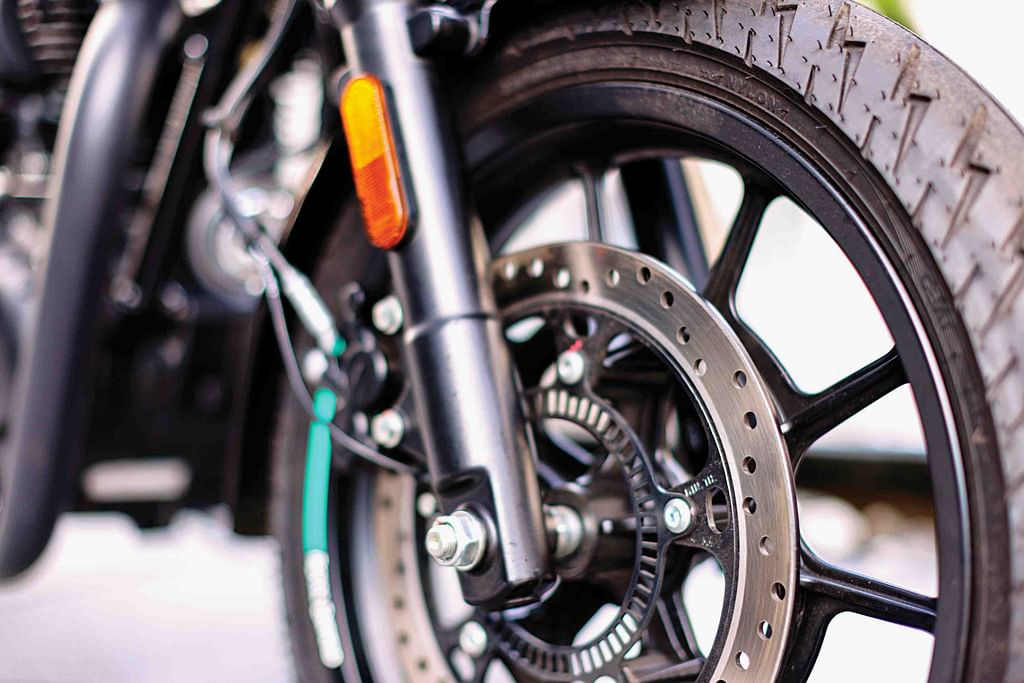 Like the Classic and Meteor, the Hunter sets the bar when it comes to solid low and midrange. People still expect top speed! Also, its clutch seems to be a bit of a villain for city riding. Could have been a bit lightweight.
How about ride and handling?
Its easy handling is primarily due to its seat height. 790 mm is the seat height. At the same time, its narrow petrol tank and riding position are superbly designed so that even 6 feet tall people won't knock their knees on the handle.
Its weight is 181 kg. It is 14 kg lighter than the Classic 350. Oh, and the retro variant is even lighter. It weighs 178 kg. This weight gain could be due to the centre stand and dual channel ABS on the Metro variant.
So, those who are used to riding the Bullet will find it easy to handle. Royal Enfield has also done a good job on its chassis. What's more, despite the small 17-inch wheels, the Hunter is quite agile to ride. Another reason is that it also has a 20 mm wheelbase that is shorter than the Classic. Also, the RE has sharpened its steering rack angle to 25 degrees. When riding in the city, the Hunter 350 makes us active.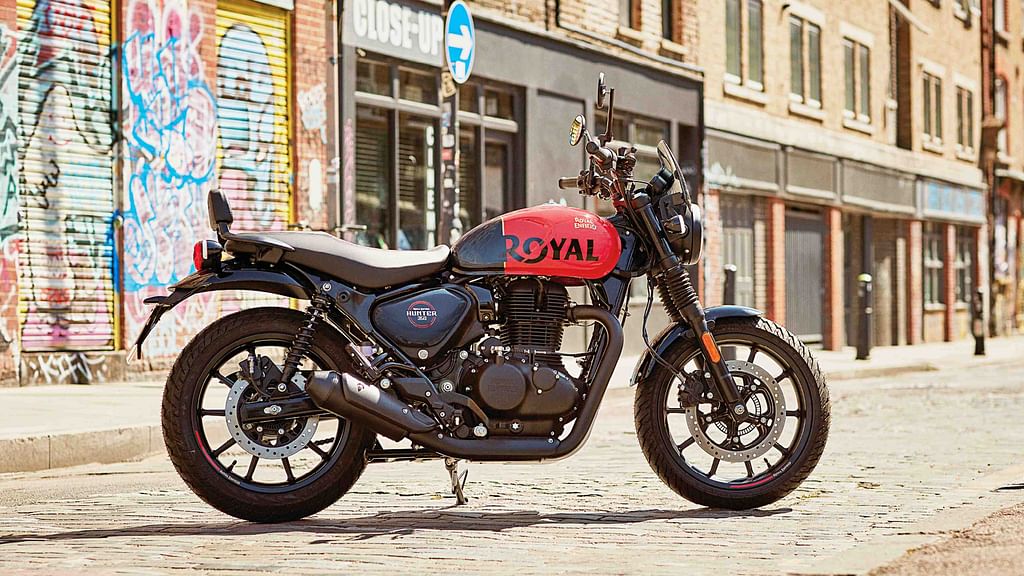 Although the Meteor shares the same platform and front chassis as the Classic, the rear chassis is slightly changed by Royal Enfield. They have made the rear frame a bit smaller and it gets a new subframe. The Meteor and Classic's foot pegs are a little heavier. Not so with this Hunter. Less weight. Instead of forward, in a cruiser position. So, long riding can be fun. As I rode it, I remembered the Interceptor. The reason is that its riding and footpeg position was the same. A lot of people will definitely like it.
Because of this, what it feels like riding a 250cc naked bike… that's how I felt riding this, Hunter. Only the rear suspension seems stiff. But this is not a big drawback. Its low ground clearance shouldn't be a big minus for the Hunter. Just 150 mm. Good thing we didn't hit any speed breakers when we rode it though!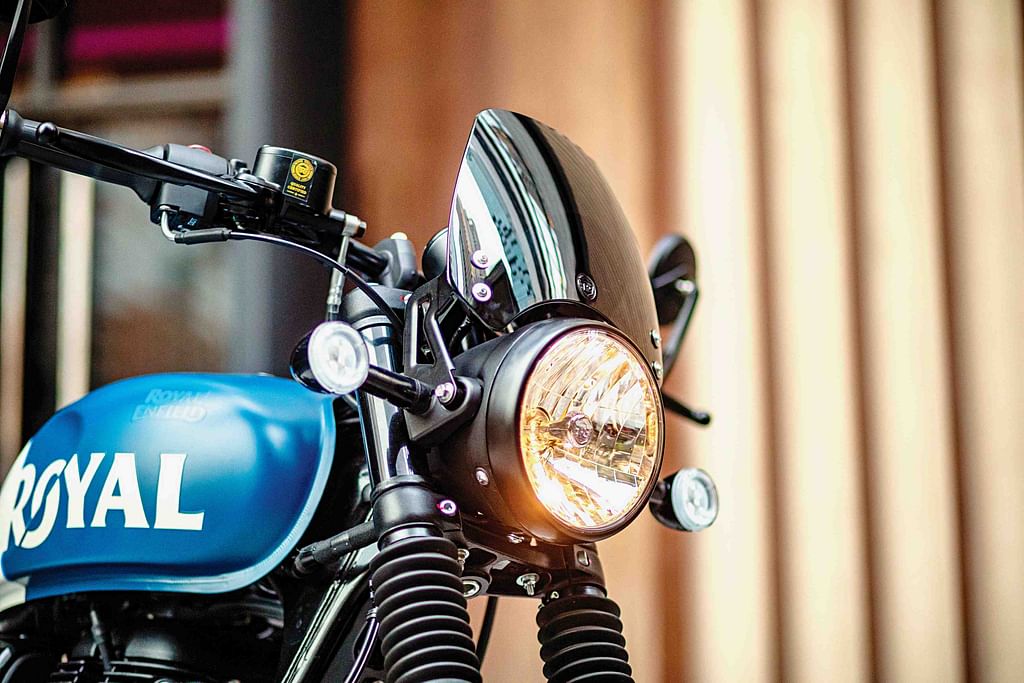 Should I buy a Hunter?
Absolutely! It comes in two variants Retro and Metro. Retro is the cheapest variant. Its on-road price is 1.74 lakh. 1.94 lakh for the top-end Metro. If you choose the mono-tone option on this one, the price will come down. It is priced at par with the TVS Ronin. That means you can buy a 350cc Royal Enfield for the same price as a 225cc. Also, the fact that it costs thousands less than Honda's CB350RS is a plus. Not much top speed; a little heavy clutch in the city; aside from slightly stiff rear suspension, this agile Hunter is sure to hunt a lot of customers.