What to expect: Off-road Driving, Picturesque Amman temple inside the forest. Possibility of staying inside a tropical forest. Relax and rejuvenate at the waterfall.
Sometimes, long, wide and paved roads take you to your destination. Sometimes you get narrow, sandy roads. Sometimes you get nothing - A jeep is built for all these circumstances. Because the fun part of a road trip isn't arriving at your destination; it's the journey. The off-road machine that accompanies you. It's none other than the Mahindra Thar. "Brother! Don't try selling ice to Eskimos! We bought this Mahindra Thar just to experience the joy of off-road drives. So much so that we both booked the Thar on the same date, for our shared love of off-road drives. Look at the odometers of our cars, they'll tell you the story!" exclaimed Manoj and Vignesh - best friends, travel buddies and adventure seekers.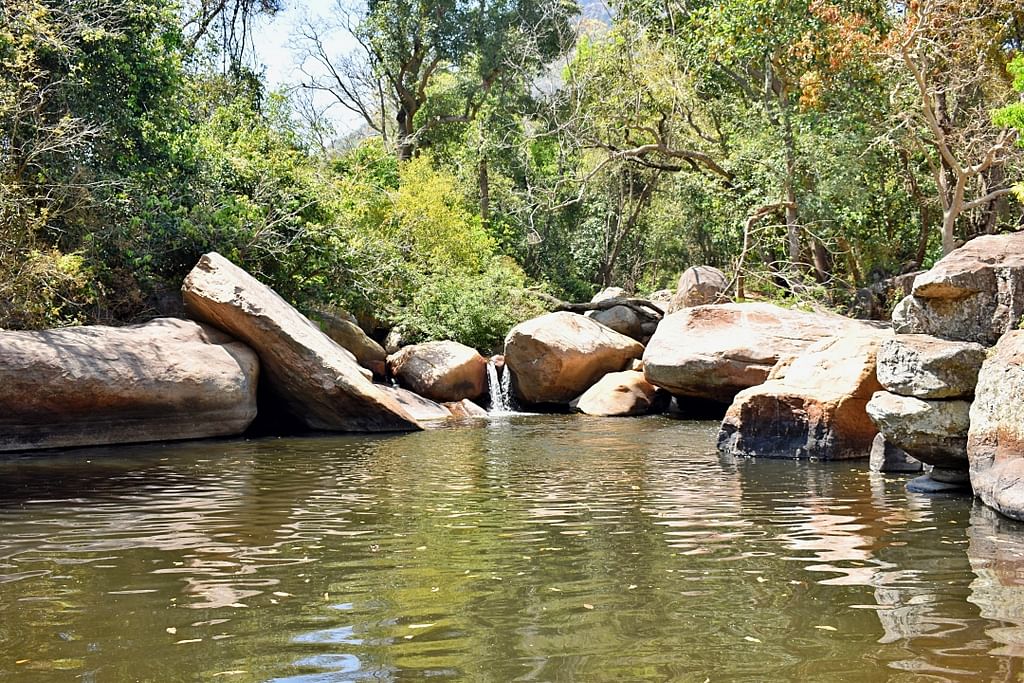 "Munnar is our weekend spot — just as how Ooty is for people in Coimbatore and Kodaikanal for people in Madurai — but we are not taking you there! We have planned something special. Hop in!" they said. The place is called 'Kodandur'. The only way to reach there is by taking a right turn into a narrow off-road immediately after crossing the Munnar check post.
We set off from Chennai, with our Photographer, towards Udumalapet. After a light breakfast at Udumalpet, we onboarded the Thar along with Vignesh and Manoj for a magnificent drive. It's fair to say that we got a good reception at the check posts in Valparai and Munnar. We were only asked, "Where to?". The officials at the check post did not waste time in asking where we were from, as they figured that out with the number plates! Locals do get special treatment, and we got hassle-free approval to take the road to our destination. And above all… We have Thars!
Two Thars. Two vibrant off-road fanatics. Off we went into the woods, surrounded by lush green trees on either side. I could not resist thinking that the Thar could be specifically engineered for neglecting the challenges on a jumpy forest road like this. "Brother! I happened to watch the interview of Velusamy sir on Motor Vikatan YouTube Channel. What a guy! I'm in awe of his design" Vignesh said with childlike joy and enthusiasm.
ஒட்டுமொத்த விகடனுக்கும் ஒரே ஷார்ட்கட்!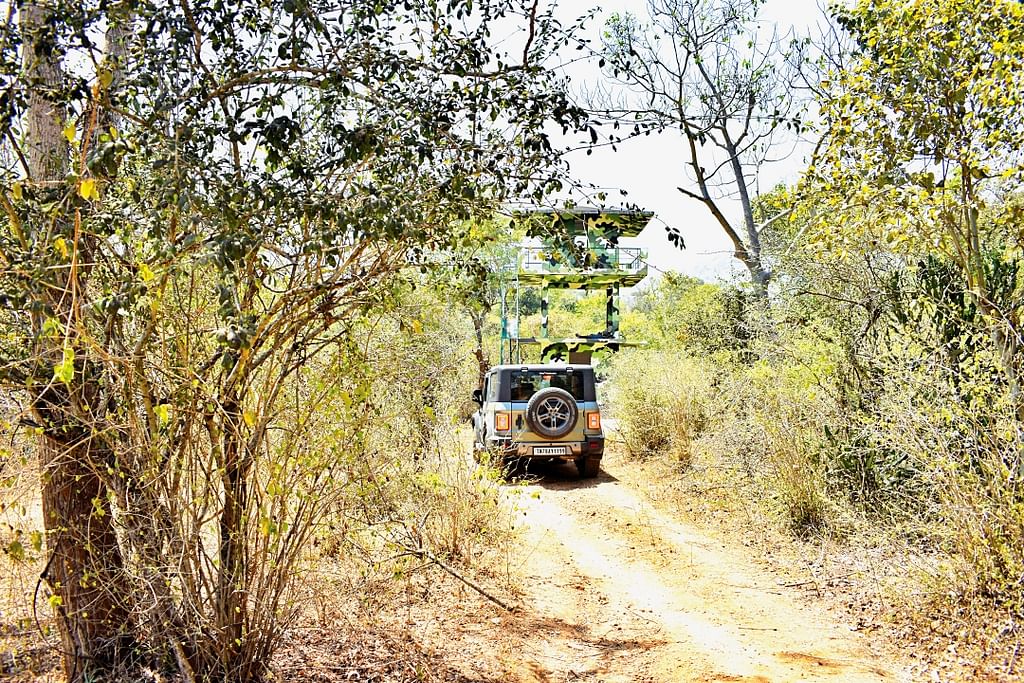 Not just the king of off-road, our Thars proved they could take on any sedan we encountered on the road, blazing past them gracefully. About the Thars: Manoj's one was manual and Vignesh had opted for an automatic gear system. "The 130 bhp power is too good for these roads. However, I am yet to speed over 110 kmph in my machine. This guy, Manoj, is a speedster" said Vignesh cheekily. Oh! It was a real pleasure to switch between driving the Manual and Automatic variants.
We crossed Udumalai and on the way to Munnar was the first check post - the one at Anamalai Tiger Reserve. Here, one needs to submit proof of permission if they want to take the route to Kodandur. However, if your destination is Munnar, you are given a go-ahead, with just the regular formalities. Within a few kilometres came the next check post. We could not resist stopping by and savouring the delicious Paniyaram (a baked sweet snack) and Bonda (a spicy variety of vada) sold by the locals and clicking a few photos before we took off again. Cruising into the woods with two majestic jeeps left the locals to wonder about our purpose and many asked us out of curiosity "Are you from the Forest Department?" Both Vignesh and Manoj seemed to know the route well. We took a right into an intimidating narrow & unpaved road. It appeared that our Thars were more excited about the journey ahead than we were, as they stormed into the road with 4Low on!
"Look! This is the special cottage where I wanted us to stay. Fully powered completely by solar energy. Sadly, we were denied the request to stay as there are some issues with the solar panels" - lamented Vignesh. We went past the popular Kattalai Mariamman Temple and we were told that only locals were permitted to participate in special poojas that happen every Thursday. It made sense for it was not a tourist spot and such regulations are needed to protect the forest.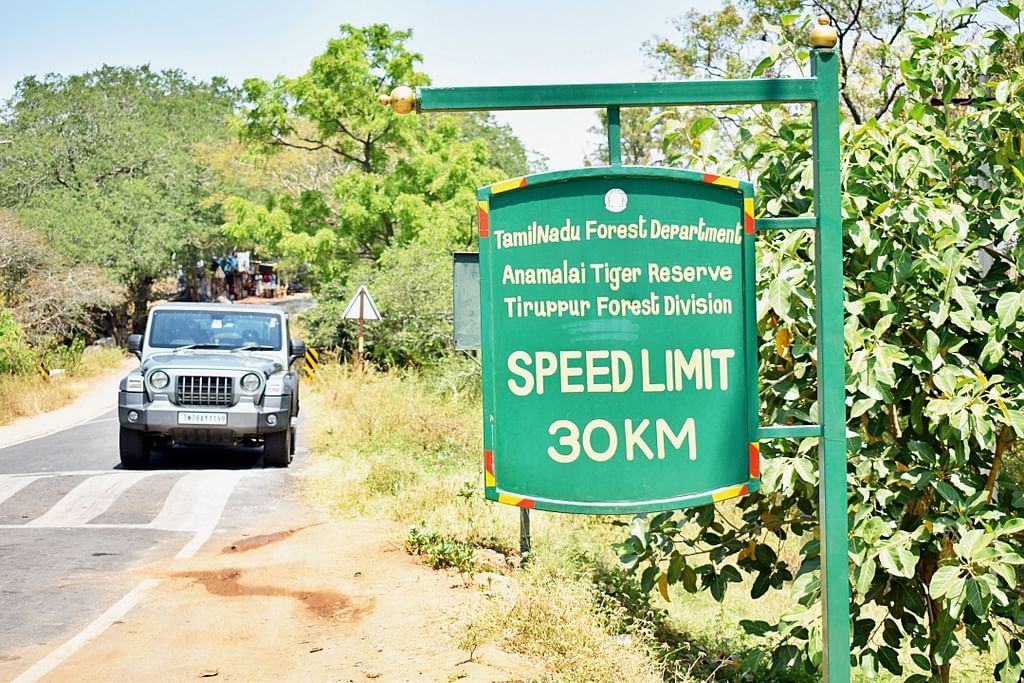 Though it was unfortunate that we couldn't stay at the cottage, nothing stopped us from looking around the premises. We learned that the cottage is visited not just by humans but also by certain wild animals who stroll the place even during broad daylight! Adjacent to the cottage was a small, clear stream which explains why wild animals frequently visit the premises. There was no sign of human presence around which made every minute we spent there exhilarating. I began talking longingly about how supernatural and thrilling the night would have been if we had stayed there.
Before I could finish what I wanted to say, we heard a cinematic loud cry. "Brother! Hurry! Come, look at this!" We approached our Photographer Ragesh with excitement. It was a snake's shed skin, a 10-foot-long bundle with traces of its eye and face. We wondered how long the actual snake would have been — by looking at its pattern and the scales, we argued whether it could be an Indian Cobra or a venomous Rattle Snake. "Two Indian Cobras live around here" casually claimed the local resident who had now joined us as a guide.
One thing was for sure. No other vehicles, except for jeeps like Thar could move even a few metres on that rutted, rugged road. With the kindness of the locals, we were permitted into the Kattalai Mariamman Temple. It certainly was not busy, just a handful of locals. After offering our prayers, the Thars were set on track again, taking a sharp right from the temple. What lay in front of us was an open forest with limited greenery — it was scary, to say the least for we could hear the sounds of the forest. It would have been nice to have a similar environment throughout, but our route mostly was a hard-top one.
Whether it's travel or life, the path is important. It was a moment of realisation when we found that the Thar behind went missing suddenly. No trace of it whatsoever. We were deep inside the forest and the only mechanical noise I could hear was that of the automatic gear Thar that I was driving. "Brother! Seems we are going in the wrong direction. You should take that road to reach the falls" - claimed the local resident. Sigh! I had taken a wrong turn.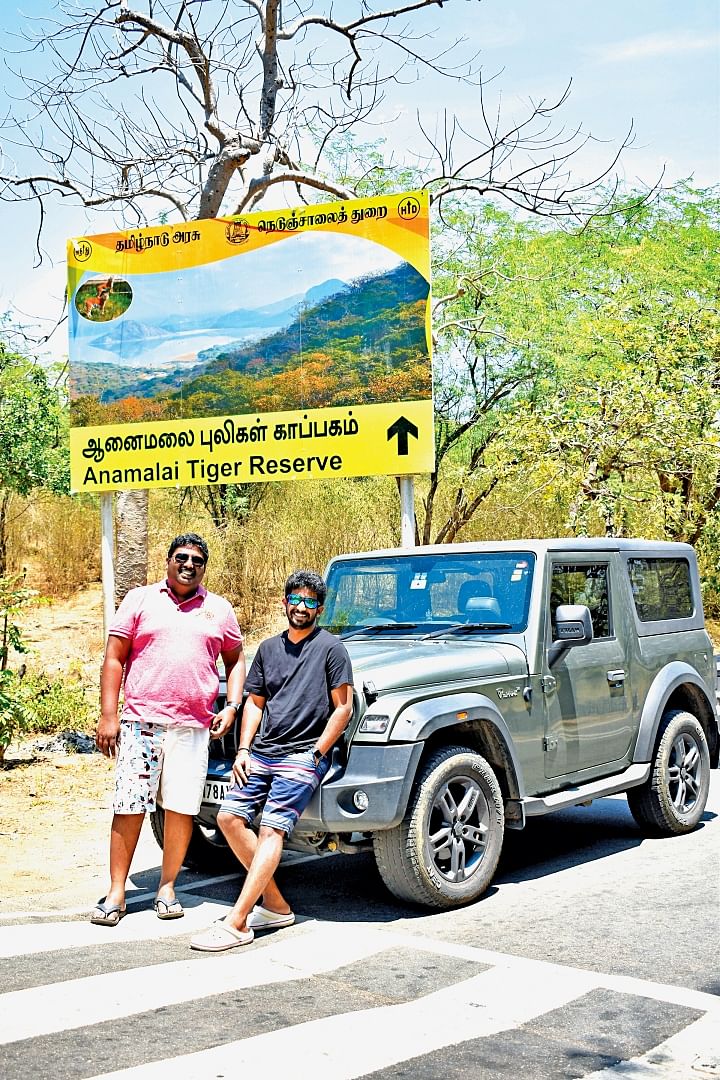 Luckily, we realized our mistake fast enough that we didn't lose much time. On our way back we got to see Kattalai Amman temple once again and this time, we took left and went downhill. After just a few minutes of driving, we reached the watchtower, a lens to unravel the beauty of the entire forest. A long ladder was in place to take people to the top of the tower. Manoj giggled after seeing the ladder being protected by a door. "Who would have a door for a ladder?" he remarked. Not just Manoj, all of us were thrilled to know that the door was in place to prevent animals like leopards from taking the ladder.
As we approached the top of the watchtower, we saw small streams and waterfalls all around us, as if we were trapped in the middle of nowhere. Had we climbed the tower in the evening, we surely would have spotted a few elephants or leopards roaming around.
"Yeah, there you have it. Let's take a bath in the stream next to that waterfall; the water is not that deep here" said Kodandur Annan pointing at a stream nearby. We got down, safely parked the Thars near the watchtower, and headed towards the stream warmly welcomed by the forest's murmur.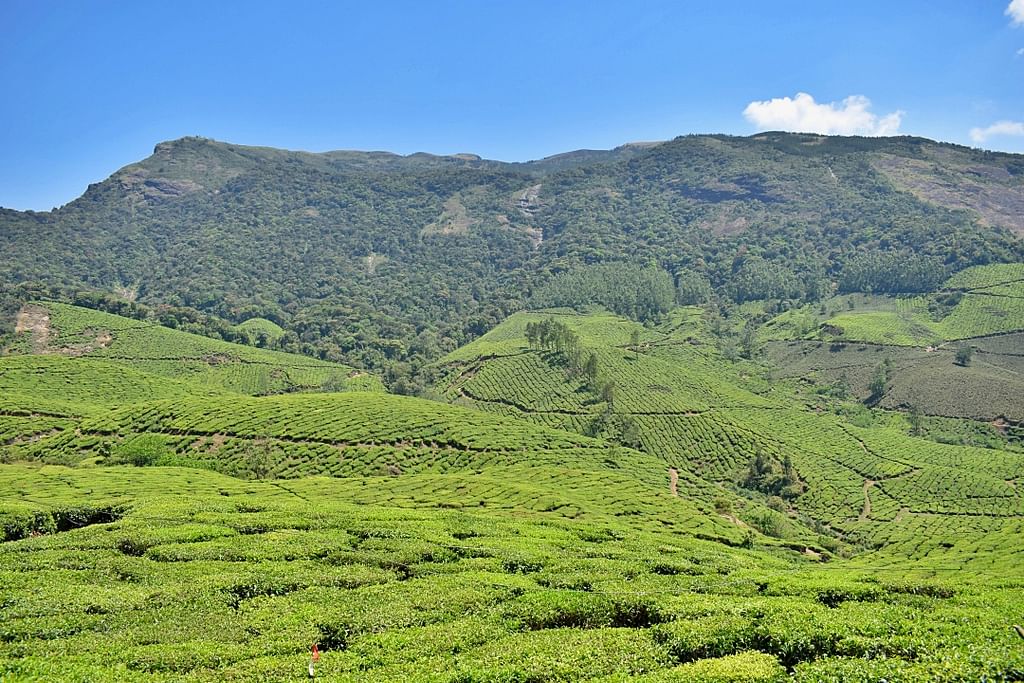 Non-swimmers should strictly avoid getting down into the stream and anywhere near the waterfall. When I say waterfall, don't expect an Athirapally or Courtallam, yet, this is a place of scenic beauty. Beneath it lay a big trench. That's where we dived in for a bath in the middle of the forest! With literally no human or animal presence around, it felt like the water was falling just for us to rejoice.
Looking at the greenish colour of the water I suspected that the water was probably contaminated. "Ha. Not at all. This is herbal water, so pure that you can drink it. As a matter of fact, this is the main source of drinking water for our village" - our local guide corrected me. As we climbed above the waterfall barefoot, we saw a whole new world expanding right in front of our eyes. I still remember it vividly — waterfalls, mostly small, were everywhere: in whichever direction you set your eyes. It would be a crime to not click some pictures at this majestically beautiful spot and we sure clicked plenty till our mobiles ran out of battery!
We laid down flat across the stream, hands to the back of our heads, glaring at the sky without a worry in the world. It was surreal. Probably this is what people call 'Zen Level?' We'll never know for sure.