Rivers have been flowing through this planet even before the word 'Earth' was framed. Human civilizations have evolved around it. Love is no different. Our lifestyle has evolved around love, which is also changing itself with respect to time. This is what makes each generation's perception of love so different. A generation perceives the previous generation's love like accessing a vintage shirt from the old trunk box of our grandfather. It's old, very precious. But will never suit them. In this digital era, A generation's span has shrunk from thirty years to five years. That's why we wanted to know the opinions of people from different generations. Hence, we conducted a survey with a questionnaire of ten questions.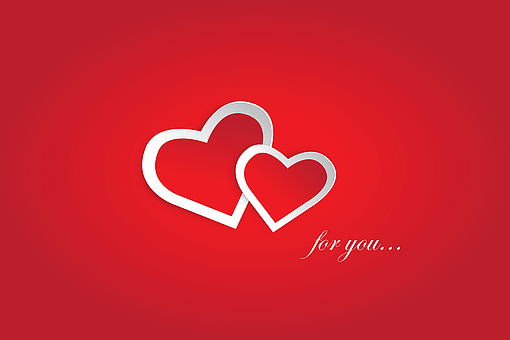 Thousands of people participated in this survey. And we ended up receiving a lot of surprises and a few shocks as well. As the survey concentrated on the generation gap it became mandatory to segregate the population based on their ages. 18 to 25 years, 26-35 years, 36-45 years, 45 years+ were the four age groups under which the population was categorized. It was no wonder that the maximum number of participants were between the ages of 26 -35.
ஒட்டுமொத்த விகடனுக்கும் ஒரே ஷார்ட்கட்!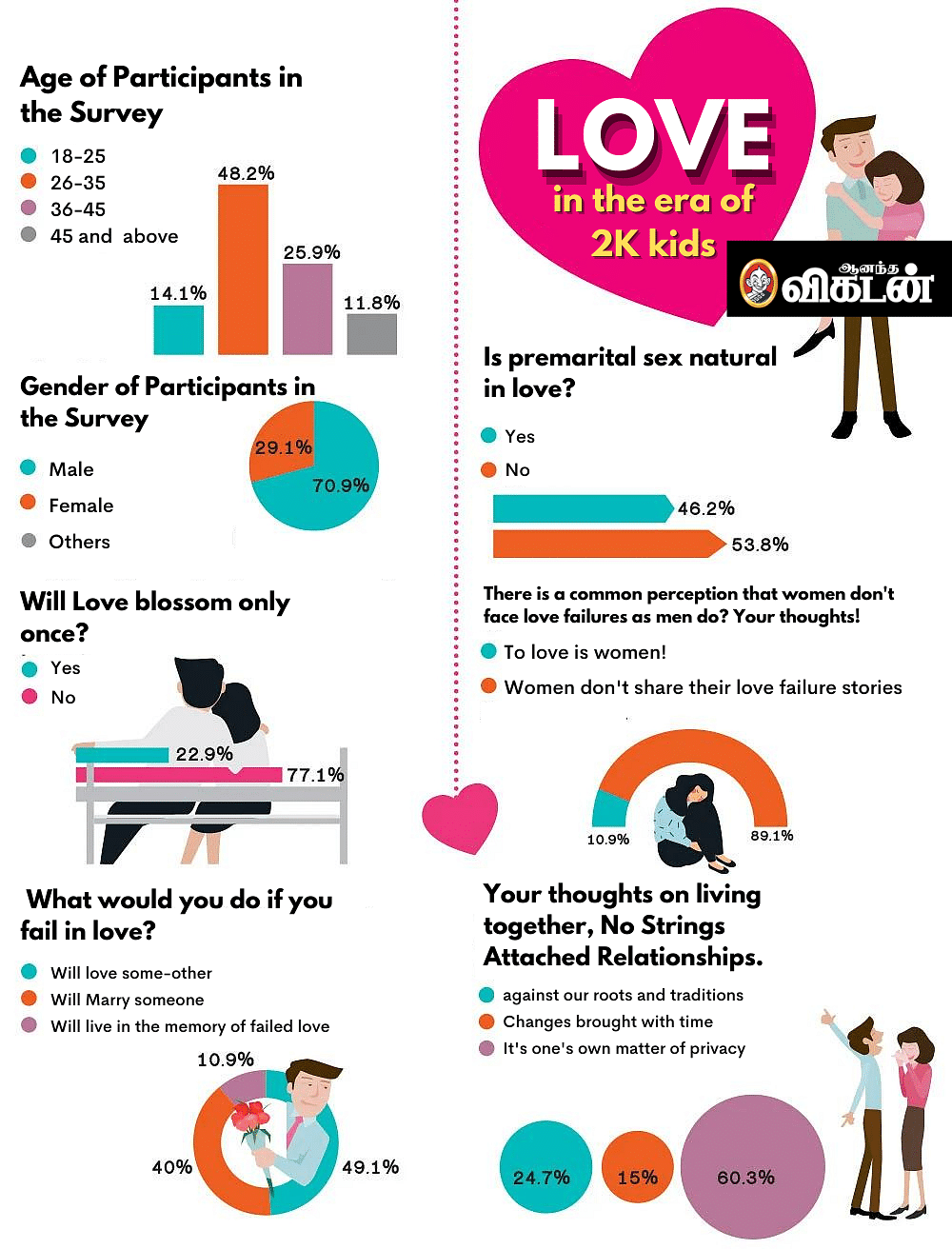 90s kids are the trend creators and the epicenter of today's internet culture. How could this survey be complete without them? Nearly half the participants were from this category. Next, 25.9% was occupied by middle-aged people. It was a mixed group of few people who were active lovers and the remaining were those who reminisced their experiences with love.
உங்கள் அன்றாட தேவைகளின் அனைத்து பொருட்களையும் சிறந்த தள்ளுபடியில் வாங்க
VIKATAN DEALS
தற்பொழுது ரூ.750 சேமியுங்கள்! ரூ.1749 மதிப்புள்ள 1 வருட டிஜிட்டல் சந்தா

₹

999 மட்டுமே! மிஸ் பண்ணிடாதீங்க!
Get Offer
70% of participants were male. The restrictions that society has levied on females might also be a cause for this. The first answer to the survey put us in surprise. 'Will love blossom only once?', for this question the answer was a resounding NO from 77% of the participants. This answer is an exact contradiction to the image built around first love in retro movies like 'Idhayam'.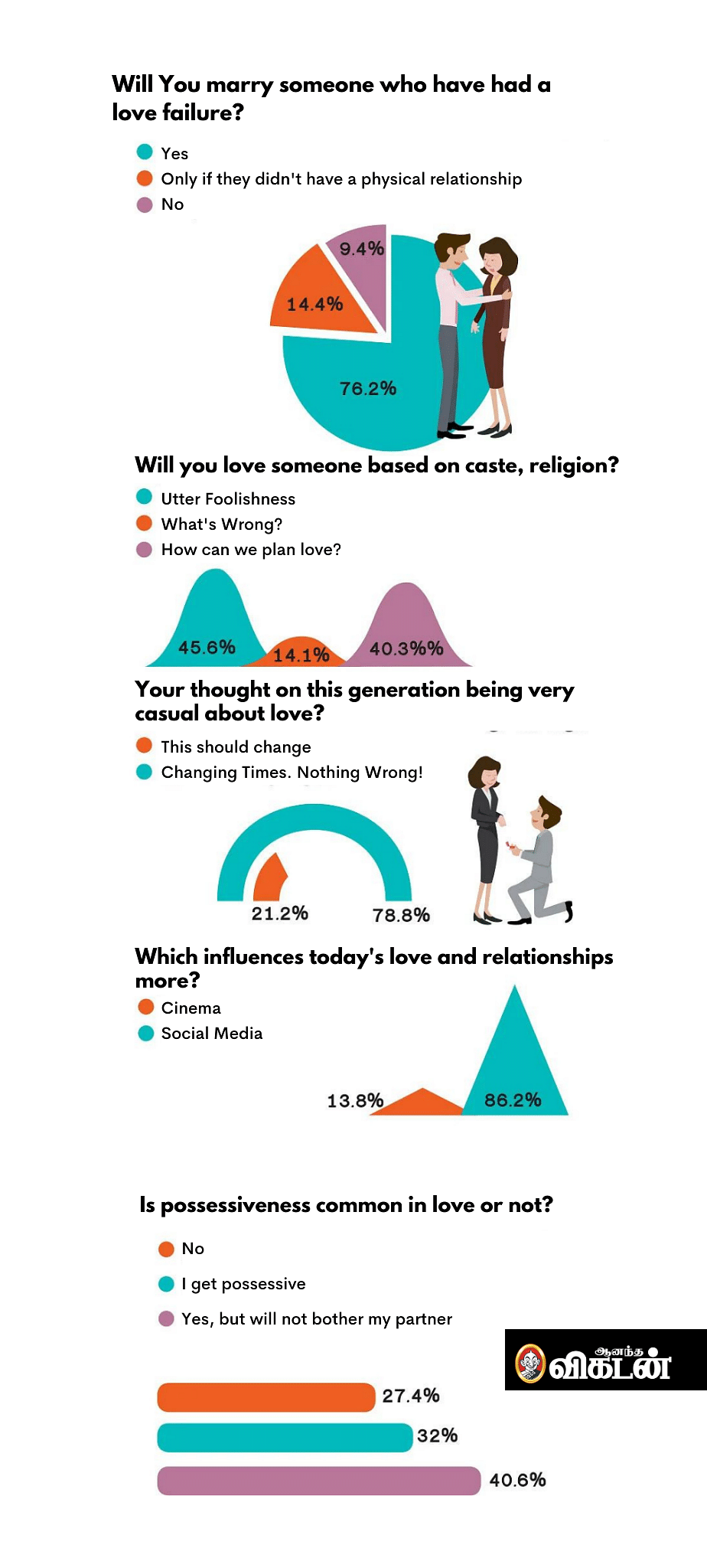 Another image that left an impression on the masses was 'Poove Unakkaga'. The protagonist there never moves on from his failed love. This perception has also changed. For the next question 'What would you do if you fail in love?'; 'I will go in search of the next one was the answer given by 40%. Moving on without getting stagnated is an optimistic approach reflected in their answers.
'Is premarital sex natural?' 53.8 % said NO and 46.2 % said yes to this question. This narrowing difference between the answers shows the changing ideology of the Tamil people in this regard. 'Don't women face love failures as men do?'; For this question, 'Women don't have enough exposure' was the most chosen response. We believe this too will change with the confidence and financial independence that education gives to the current generation of women.
Follow @ Google News: பக்கத்தில் இணையதளத்தை செய்து ஃபாலோ செய்யுங்கள்... உடனுக்குடன் பெறுங்கள்.
'No one's privacy is respected. Everyone wants to snoop into others' personal life'. This is the common perception of our society. But in this regard too, The Survey shows a changing trend. For a question on living together culture, it was surprising that 60% of the answers were 'It's one's own matter of privacy. It is not fair to intervene in others'. This mindset is a welcome change.
Also, people have normalized break-ups and love failures. 76% of them say they would marry a person who had a love failure.
The Next Question's response also caught us off-guard. 'Is it right to love someone based on caste and religion?' was the question. 45% of participants dismissed it as 'foolishness'. 40% questioned, 'Can love be preplanned?'. And Surprisingly 14% have responded 'Yes'.
Also, Cinema has lost its influence to Social Media and the Internet which is now shaping today's perception of love and relationships. This reflects in the survey.
And there is this Question which exists from the inception of time. 'Is possessiveness common in love or not?'. We had varied responses to this one. 'It is quite common to have other friends' told 27.4% of the participants. 'Yes, I will get possessive' said 32% of the participants. 40.6% answered 'Even If I feel so. I will not bother my partner'. These responses show the mindset of people not wanting to interfere in their partner's life too much.
'Life has evolved. Generations have passed and so has changed the love and perception about love' is the inference we get from this survey. Even with all these changes, Love is still the driving force of life on this planet!
- Lalitha Shankaran